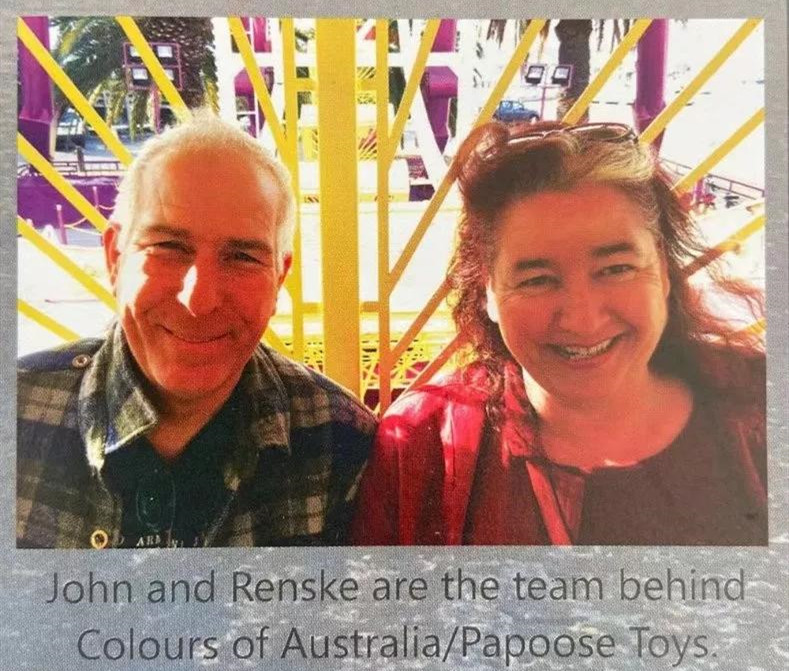 In 1991 Renske Carbone started her company Colours of Australia after finishing an art degree from Curtin University (WA).Right from the beginning the focus has been on hand made colourful product, often adapting craft techniques to enable larger scale production. Renske's love of colour and texture influence her design ethos and her designs are generally simple but unique.
Since 2006 Papoose Toys focus on the development of educational toys.there's a strong focus on educational toys informed to a degree by Steiner and Waldorf philosophies. Guided by our customers, our artisans and the materials themselves Papoose Toys are unique and original,safe for children and engaging minds and fingers for hours of fun play and learning.
Papoose Toys aims to engage the minds of children by creating open-ended, non prescriptive toys whilst at the same time providing resources for teachers and parents that are looking for sustainable, eco-friendly and natural educational toys.
As international brand, Papoose Toys aims to be the go-to for high quality, hand-made, FairTrade, all-natural toys for early childhood,by reducing our carbon foot print where possible and above all, by making sure our products are safe for children to play with.
1991年,伦斯克.卡蓬从澳大利亚Curtin University(WA)科廷大学获得艺术学位后,创建了澳大利亚Colours公司及Papoose Toys品牌,专注于打造纯手工制作和自然色彩的产品,她对色彩和质地的热爱影响了她的设计精神,她的设计通常简单而独特。
自2006年以来,Papoose Toys关注并重点投入到教育功能玩具的开发,这些玩具一定程度上受到了鲁道夫·施泰纳(Rudolf Steiner)和华德福(Waldorf)教育哲学的启迪。 在满足客户的要求与期望下,Papoose Toys追求的匠艺是独特的,材料本身对孩子都是自然的、安全的,让孩子能沉浸在数小时的头脑、手指的身心乐趣的游戏和学习中。
Papoose Toys使命是通过为孩子们创造开放延续的, 非规定标准性的玩具,来丰富孩子的身心, 同时为正在寻找可持续的, 生态友好和自然的教育玩具的广大教师和家长们, 提供资源与帮助。
作为国际品牌,Papoose Toys正致力于成为高品质手工制作的全天然幼儿玩教具的必选,通过尽可能减少碳足迹产生等种种做法,来确保我们的产品可以让孩子们安全地进行玩耍。